Strange but true: Robert Mapplethorpe did not start his artistic career as a photographer. "When I was in college, we had to take a photography course and I hated it," he once recalled. "It seemed like a lesser art form." Not until the early 1970s did he start exploring the medium's potential, thanks to pivotal gifts from important art-world friends. In 1971, Metropolitan Museum of Art curator John McKendry gave him a Polaroid camera—still a new technology at the time. The following year, Mapplethorpe's Christmas gift from art collector and retired curator Sam Wagstaff was a Hasselblad medium-format camera. Prompted by these mentors and the inspiration of new tools, the artist created the images that have beguiled us ever since.
Implicit Tensions: Mapplethorpe Now, which opens this Friday, January 25 at the Guggenheim, presents selections of the artist's work thirty years after his death. Drawn from extensive holdings gifted to the museum by the Robert Mapplethorpe Foundation in 1993, the show includes iconic images of nudes and flowers, explicit depictions of the S&M underground, portraits of the likes of Philip Glass and Andy Warhol, and Mapplethorpe's intriguing and moving self-portraits. The exhibition will have two phases; the second phase, which opens in July, will delve into Mapplethorpe's impact on portraiture and self-representation, showing works by contemporary artists Rotimi Fani-Kayode, Lyle Ashton Harris, Glenn Ligon, Zanele Muholi, Catherine Opie, and Paul Mpagi Sepuya.
A master of his medium, Mapplethorpe is also widely understood as a provocateur. In truth, his aesthetic mastery and interest in upending norms were intertwined. "My interest was to open people's eyes, get them to realize that anything can be acceptable," he said. "It's not what it is, it's the way it's photographed." By portraying subjects from lilies to genitalia in the visual terms of classical artworks, he invited viewers to question accepted notions of both art and sexuality. As Lauren Hinkson and Susan Thompson, the exhibition's curators, have noted, "Mapplethorpe presented the flesh of his living subjects with the strength, stillness, and solidity of sculpted marble."
This can be seen vividly in Ken and Tyler, a platinum-palladium print the artist made in 1985. The elegant poses of the male bodies, the studio-like lighting, and the central composition—all call to mind the traditions of classical art. Yet, even within this formal presentation, the image is alive with the same raw sexuality that is made more explicit in other works. As the curators of the show have written, "Mapplethorpe's considered use of brazen sexual openness was not only an expression of his own identity but also an artistic strategy."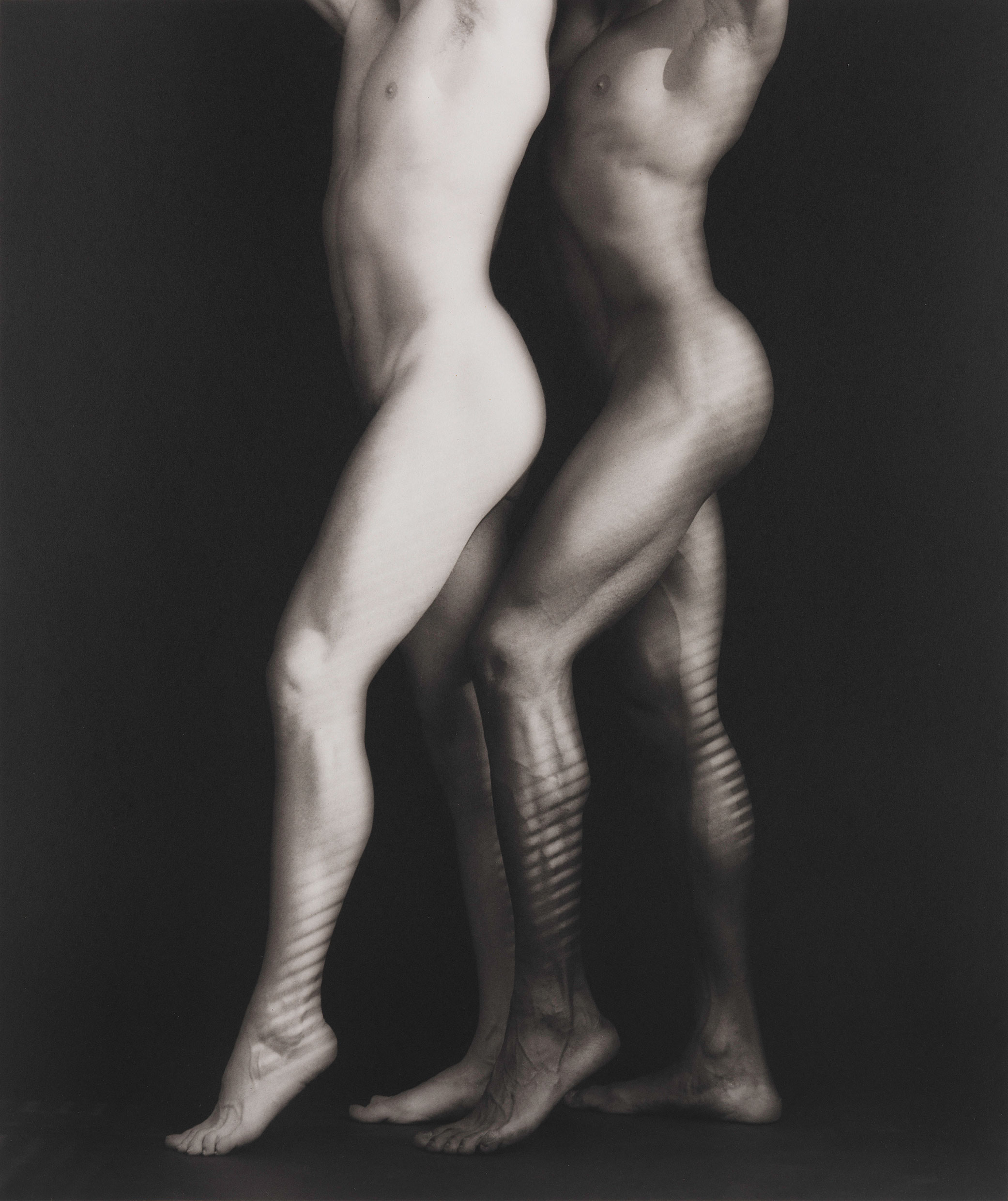 Mapplethorpe's willingness to focus on the sexual body was an important part of his practice; yet, equally significant was his skill as a portraitist. Whether he was surrounding Warhol's signature white mane with a saintly penumbra of light, capturing Patti Smith's deep and level gaze, or bringing forth all the delicate glamor of actress Candy Darling, Mapplethorpe had a singular eye for his subjects.
He also turned the camera on himself to great effect throughout his career, often playing with gender roles and self-presentation. This sense of a purposefully fluid identity can be seen even in later studio portraits from the mid-to-late 1980s, shortly before his death. In one self-portrait from this period, he wears a black, collared shirt, and his shoulders face the camera, positioned for a straightforward headshot. But his face is turned, his eyes are directed away from the viewer, and the trail of his movement has created a ghostly twin profile. The artist is simultaneously present and elsewhere—controlling how he is seen, and forever defying us to pin him down.